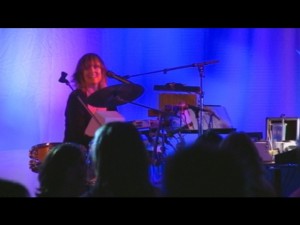 DJ BongoGirl is aka Heather Arden Roy, vocalist and percussionist with The Royz Band
DJ Bongo Girl is the only female DJ who is also a professional Percussionist, Vocalist, Bandleader Emcee and Announcer!
As a professional musician and vocalist she brings a total performance oriented approach to her DJ sets.
As a professional percussionist, she offers a unique added talent to her DJ sets by playing her impressive live bongo and percussion kit on top of the original studio artist dance tracks, providing a hip downtown DJ-Bongo dance club feel.
She incorporates all her live performance instincts and love of music into every song she spins. Her ability to "read" an audience is magical.
DJ BongoGirl is also an experienced Emcee and Announcer, having lent her voice to thousands of events.
DJ BONGOGIRL IS INCLUDED FREE WITH ALL ROYZ BAND PERFORMANCE PACKAGES
All our Royz Band performance packages include our unique live mix DJ service, featuring DJ Bongo Girl.
Heather remains on-stage whenever the band is not performing to LIVE MIX music suitable for the moment.
Our included DJ service is available from the time of our equipment set-up and for up to one hour after the band finishes. If you require longer DJ service, extra hour(s) of DJ BongoGirl can easily be added to your Royz Band Performance Package
Our included DJ service  provides seamless transition from our Live Performance to DJ, and back again. We include this free service to ensure that there will never be dead air during your event. However,  most importantly, our DJ  service also ensures that ALL requests can be covered!  Any song requests that are not in the band's extensive live repertoire can easily be played during the DJ set.
Clients can opt to use our included DJ service in a variety of ways to best suit the event and timeline. For example: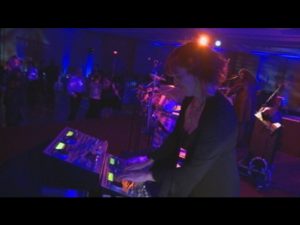 The DJ service can provide light cocktail or background music prior to the band start as guests arrive and mingle
Our DJ service can play light dinner music, either for the entire dinner service or just over main course
DJ BongoGirl can keep the dance floor hopping during the band break
DJ BongoGirl can keep the party going for another hour after the band finishes. And if a true nightclub feel is desired, DJ BongoGirl can also play her conga and percussion live along with her DJ dance music mixes
No matter how you may choose to use our included DJ service featuring DJ BongoGirl, we guarantee that this free included service will provide even more "Wow Power" to The Royz Band live performance.
PROFESSIONAL EMCEE
BongoGirl is also a professional Announcer and Emcee and has lent her voice to thousands of events.
Any Emcee duties or announcements that you may require at your event will be skillfully handled by DJ BongoGirl