We Offer The Best Florida Live Bands Options
Choose our Duo, Trio or Fabulous Big Band
The Royz Band performs in a variety of musical formats. Choose the best Florida live bands format for your unique event.
Choose from our Small Band / Big Sound Formats of our in-demand DYNAMIC DUO  or our awesome  INCREDIBLE TRIO
Or if you need a bigger band, choose our 4 piece, 5 piece or all the way up to our FABULOUS ROYZ BIG BAND
The same huge repertoire is available in ALL our live band formats. So simply choose the size of band that best suits your space and your budget.
For smaller events, smaller spaces or smaller budgets, our Dynamic Duo or Incredible Trio is perfect!
If you need a mid-size Four or Five Piece Band.  Oh yes, The Royz Band totally does that too!
And if you need a larger Six, Seven or Eight Piece Band for a big event? Absolutely,  The Royz Band offers all those formats!
In fact, for big events with thousands of guests, or big stages and budgets, we can easily expand up to an Eight, Nine or Ten Piece Big Band.
Quite simply, The Royz Band offers the best Florida live bands options!
ALL OF OUR LIVE BAND FORMATS COME FULLY EQUIPPED WITH OUR ALL-INCLUSIVE PERFORMANCE PACKAGE:
Your choice of band size and number of hours of performance
Top of the Line Professional sound system to provide clear and gorgeous sound
Dynamic Stage lighting
All Sound and Light equipment professionally installed prior to your guest arrival
DJ Service if/as required whenever the band is not performing. This live mix DJ service ensures not only non-stop musical coverage throughout your event, but also that ALL requests can be covered
Fully covered with $1,000,000.00 Commercial Liability Insurance
OUR LIVE BAND FORMATS:
The same huge and versatile repertoire is available in ALL of our band size formats. Simply choose the best Florida live band format that works best for your budget and space.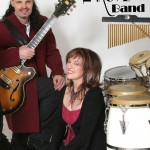 Don't let the size fool you! Our Dynamic Duo  delivers BIG sound and awesome stage excitement!This Florida Music Duo will absolutely "Wow" your crowd! Heather Arden Roy   Lead Female Vocals, Congas, Bongos, Stand-up Drum Kit Heather has a unique five octave vocal range and sings in a dizzying array of styles and …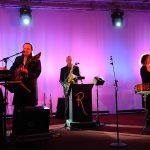 Our Exciting, Incredible Trio  format adds exciting and soulful sax to the ever-popular Dynamic Duo Both our Dynamic Duo and our Incredible Trio formats  offer a Big sound in a small band format. In fact, our smaller band formats are clearly the best choice for most events. Because they deliver the sound and exciting performance …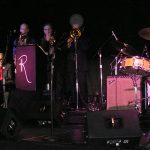 The Fabulous Royz Florida Big Band. It's true that both our Dynamic Duo and our Incredible Trio formats both offer a Big Band sound in a small band format. In fact, our smaller band formats are clearly the best choice for most events because they deliver the sound and performance of a standard Florida big band, but without the cost, space …