HEATHER ARDEN ROY        /        ANDRE ROY
SMALL BAND, BIG SOUND OPTIONS     /      THE DYNAMIC DUO    /     THE INCREDIBLE TRIO
THE FANTASTIC 4 OR 5 PIECE      /         THE FABULOUS ROYZ BIG BAND
The founding members and nucleus of The Royz Band are Multi-Octave Vocalist and Percussionist Heather Arden Roy and 7-String Guitarist and Vocalist Andre Roy.
Together, this musical partnership has a sound and musical range that is simply unparalleled – combining world-class musicianship with fun and dynamic stage personalities. They are full-time, professional musicians who have dedicated their lives to their craft.  Their devotion to musical excellence means the band always  delivers an outstanding performance  and plays all styles of music with authenticity and artistry!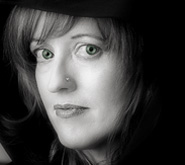 Heather Arden Roy
Lead Female Vocals & Harmony Vocals / Percussion Drum Kit – Congas /Bongos, Drums / Emcee & Announcer /  DJ BongoGirl
Heather has a unique five octave vocal range. She sings in a dizzying array of styles and genres. She sweeps from sultry jazz to crystal clear opera and celtic. Then she puts on her "powerhouse" vocals for R & B, rock and all styles of dance music.
Heather is also a dynamic percussionist. She plays congas, bongos and a full stand up percussion kit to give The Royz Band a driving, energetic & unique sound.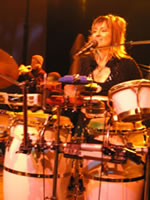 Heather began her musical career at the age of 14 with regular performances on CBC TV in Montreal, Canada. After moving to Toronto her unforgettable voice made The Royz Band one of Toronto's most acclaimed and in-demand bands.
Heather is also a professional Emcee and Announcer and has lent her voice to thousands of events and venues.
Heather now resides in Palmetto, Florida. She is a member of The American Federation of Musicians, Florida Gulf Coast Local 427-721 and New York Local 1000

André Roy
Lead Male Vocals & Harmony Vocals / 6 & 7 String Guitars / Bandleader / Musical Arranger / Composer
André is  one of only a handful of 7-string guitarists in the United States. He is also a crooning, grooving, rocking versatile vocalist.
As the musical arranger for The Royz Band, André's commitment and dedication to every form of music has given The Royz Band a unique and world class sound. His musical finesse always creates the perfect ambiance for any venue. He will simultaneously inspire music aficionados, get dancers on their feet……. and totally rock the house.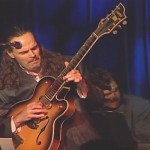 Originally from Montréal, Canada. André began performing and touring with  recording artists while still in his early teens. He majored in music at McGill University in Montreal. He was then awarded a prestigious Canada Council grant to further his music study at the world-renowned Berklee College Of Music in Boston.
André is completely bilingual in both French, and English. Now residing in Palmetto, Florida he is a member of The American Federation of Musicians, Florida Gulf Coast Local 427-721 and New York Local 1000
OUR VERSATILE LIVE BAND FORMATS
The same huge and versatile repertoire is available in ALL of our band size formats. Simply choose the best Florida live bands format that works best for your budget and space.
From our highly in-demand Dynamic Duo or our Incredible Trio, our Fantastic 4 or 5 Piece Bands, all the way up to our Fabulous Big Band, The Royz Band will deliver an unforgettable performance that will leave your guests raving!
OUR SMALL BAND, BIG SOUND! OPTIONS
For smaller events, smaller spaces or smaller budgets, our Dynamic Duo or Incredible Trio is the perfect choice! Both our Dynamic Duo and our Incredible Trio formats offer a really Big sound in a small band format. These smaller band formats are ideal for many events  because they deliver the sound and exciting performance of a much larger band, but without the cost, space and volume.
THE DYNAMIC DUO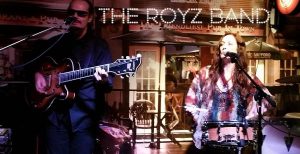 Don't let the size fool you! Our Dynamic Duo  delivers BIG sound and awesome stage excitement! This Power Couple will absolutely "Wow" your crowd!
Both Heather and Andre are  exciting & dynamic multi-instrumental musicians &  vocalists,  delivering a big sound, amazing vocals and flawless musicianship.
The Duo stage set-up look is unique and gorgeous!  With Heather's percussion kit filling one side of the stage and providing a full and exciting view of her masterful playing, and Andre's beautiful Arch-Top guitar on full display. All this glistening under beautiful stage lighting. This Duo looks as awesome as it sounds!
THE INCREDIBLE TRIO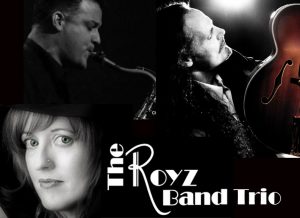 Our incredible music Trio format adds exciting and soulful sax to the  Dynamic Duo,  and has the full sound of a standard 5 piece band. The Royz Band Incredible Trio packs a  huge live band sound into a versatile, flexible and value packed  smaller band format.
The Incredible Trio is absolutely perfect for events where there may be space, volume or budget constraints.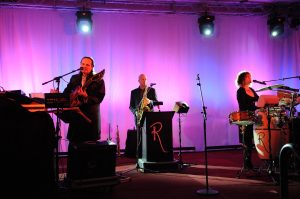 The Incredible Trio can  totally thrill events with several hundreds, or thousands, of guests in attendance. They will completely fill any size stage with their energy, talent and extraordinary musicianship. In fact,  our music trio is regularly booked for events that traditionally have a much larger band. And always, always to rave reviews!
THE FANTASTIC ROYZ 4 OR 5 PIECE BANDS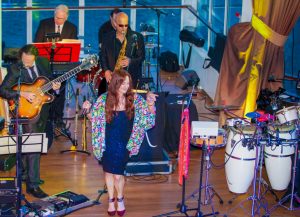 Add to the Excitement!
With the addition of one or two extra musicians to the Incredible Trio, The Royz Band transforms into our Fantastic Four or Five Piece Bands.
THE FABULOUS
ROYZ BAND BIG BAND
While The Royz Band is an awesome choice in all our smaller and mid-size formats, providing Big Sound in a smaller package, nothing actually beats the magic of lots of talented musicians on stage creating magic. If your event has the big space and budget, well The Fabulous Royz Big Band will really deliver BIG!
The Royz Band offers truly the best Florida Live Bands options!
ALL LIVE BAND FORMATS COME FULLY EQUIPPED WITH OUR ALL-INCLUSIVE PERFORMANCE PACKAGE:
Your choice of band size and number of hours of performance
Top of the Line Professional sound system to provide clear and gorgeous sound
Dynamic Stage lighting
All Sound and Light equipment professionally installed prior to your guest arrival
DJ Service if/as required whenever the band is not performing. This live mix DJ service ensures not only non-stop musical coverage throughout your event, but also that ALL requests can be covered
Fully covered with $1,000,000.00 Commercial Liability Insurance