Our Exciting, Incredible Music Trio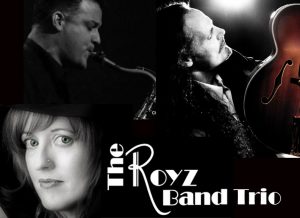 Our incredible music Trio format adds exciting and soulful sax to the ever-popular Dynamic Duo
Both our Dynamic Duo and our Incredible Trio formats  offer a Big sound in a small band format. In fact, our smaller band formats are clearly the best choice for most events. Because they deliver the sound and exciting performance of a standard Florida big band, but without the cost, space and volume.
Our unique and in-demand Florida music Trio has the full sound of a standard 5 piece band. In fact, our Trio is one of the most popular options for clients looking for a big band sound with a smaller band format.
Small Band, Big Sound
The Royz Band Incredible Trio packs a  huge live band sound into a versatile, flexible and value packed  smaller band format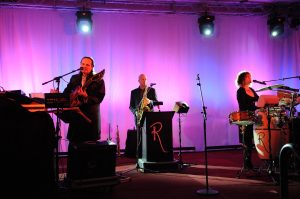 All three of The Incredible Trio musicians are  exciting & dynamic multi-instrumental musicians & vocalists.
They deliver a big sound, amazing vocals and flawless musicianship.
Of course, The Incredible Trio is absolutely perfect for events where there may be space, volume or budget constraints.
However, The Incredible Trio can also totally thrill events with several hundreds, or thousands, of guests in attendance. They will completely fill any size stage with their energy, talent and extraordinary musicianship. In fact,  our music trio is often booked for events that traditionally have a much larger band, and always to rave reviews!
Masterful Musicianship
The Royz Band Incredible Trio musicians are all acclaimed for their musicianship.  In fact, all three are full-time, professional and dedicated musicians.  As a result, the band performs all styles of music with authenticity, and also with artistry!
Collectively the band members have studied at North America's premiere music schools.  Most notably, they have studied at  Berklee College of Music in Boston, McGill University in Montreal & Humber College of music in Toronto.
The Instrumentation for The Incredible Trio is an unbeatable combination of elements, including:
world-class musicianship with fun and dynamic stage personalities
multi-octave female vocals & percussion
grooving male vocals &  7-string guitar
soulful sax & flute & backing vocals
Our Incredible music Trio comes with everything included our all-inclusive performance package